Relay Interface
Analog to Digital
Status Input
Support
Contact Us
EECI Home Page
View Cart
AR-2S Relay Interface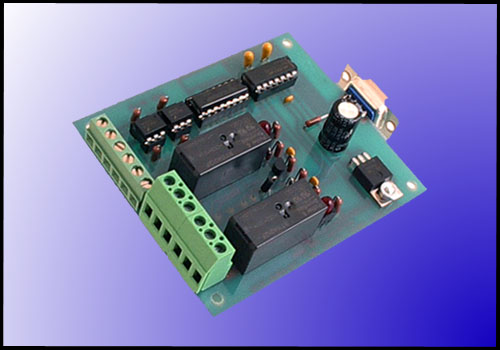 AR-2S Relay Interface............
$ 49.95
Quantity
ACCESSORIES
Click the add button to add accessories, then click BUY
PS-GP-1 Wall Adapter............
$ 9.95
Quantity
CC-DE9SAR2 Cable 9 pin RS-232
$ 8.95
Quantity
CO-USB Cable with Driver CD..
$ 18.95
Quantity
AR-2 Android Relay Control App
View Additional Accessories
Two relays with SPDT contacts rated at 12 amp 240 volt AC
LED indicator lamps for each relay
Two optically isolated digital inputs
D-Sub connector (9 pin) for connection to RS-232 (or USB with optional cable)
Terminal Block with rising cage clamp design (up to 12 AWG wire size)
Relays may be time scheduled using the SW-A Load Programmer software for 7 day time control of relays
Relays may be used to ring a School Bell or Shift Change Bell using the AR-2 Bell Control software
Relays may be used to lock and unlock or open and close gates on a time schedule using the AR-2 Lock Controller software
Inputs may be used as a Security System interface that can be used to send a text message or email to a remote computer, cell phone or mobile device when an alarm is detected.
Includes SMS Text Message Event Notification software for your Smartphone, Tablet, Laptop or Desktop PC
Compatible with all versions of Windows including XP, Vista, Windows 7, Windows 8.1, Windows 10 and Windows 11
Open Source - Source code examples included in Microsoft Visual Basic 6, Microsoft Visual Basic.Net, VB 2008, VB 2010, Microsoft ASP.Net, Assembly, C# and others
Includes CD with Technical Reference, Test software, Source code examples and Security System interfacing software.
Android Compatible - Use with your Android tablet or phone - connects directly to USB port or controllable over network (LAN, Wi-Fi, Internet or Mobile network)
Connect your AR-2 Relay Interface to your Android tablet or phone's USB port! Click the Android for more info about the free Android Apps...

AR-2S Description and Spec
AR-2S Technical Reference
AR-2S Software Download
AR-2S Remote Desktop Control
View All Relay Products
---
Electronic Energy Control, Inc.
14960 Maple Ridge Rd
Milford Center OH 43045-9016

TOLL FREE (24 hour order line)
(800) 842-7714
Technical Support (937) 349-6000
Internet Email cst@eeci.com
---
Copyright ©1996 - 2023 Electronic Energy Control, Inc.
All Rights Reserved
Document End
---