Relay Interface
Analog to Digital
Status Input
Support
Contact Us
EECI Home Page
View Cart
Free SMS Notification Software
for your Smartphone, Tablet, Laptop or Desktop PC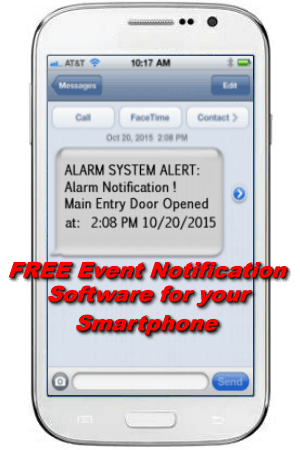 Event Notification Software.....
$ Free
Event Notification App
ACCESSORIES
Click the add button to add accessories, then click BUY
AR-8MF Interface (8 inputs).....
$ 49.95
Quantity
AR-12MF Interface (12 inputs)..
$ 69.95
Quantity
RCT-8 Terminal Block Adapter..
$ 8.95
Quantity
Event Notification for your Smartphone
This software allows SMS Text Message Alerts or Email Alerts to be sent to Smartphones, Computers, Tablets and other devices for the purpose of event notifications. Events that you may wish to send to your Smartphone include security system alarm alerts (such as alarm in progress, an open door, a tripped motion detector, broken window or smoke alarm). Other uses include alerts when room temperature or freezer temperature fall below a preset level. Any device with a contact closure or a voltage output may be connected to inputs on the AR-8MF, AR-12MF, STA-16 and other EECI products to trigger a text message alert to your Smartphone or computer. Other uses include alerts sent when a driveway sensor is tripped, a doorbell is sounded, a swimming pool activity alarm goes off, a security camera detects activity or any one of thousands of events that may need to be monitored. Are you a business owner and need to be alerted if a freezer has failed to keep food frozen? Need to know if a motion detector outside your business or dock area has tripped ...or maybe you need to know the time that your store door was unlocked. Managers need to be kept aware of the temperature of conference or banquet rooms. Maintenance personnel need to know the operating performance of HVAC equipment. EECI's free Notification Software will send a text message alert to your Smartphone when any of these events take place or at a pre-defined time interval.
Full technical support provided by on staff advisors
Compatible with Android, iPhone and all Smartphones that are able to receive SMS text messages or email
May also be used to send SMS alerts to your Tablet, Laptop or Desktop PC (send alerts to as many as 8 different Smartphones/Devices for any event)
Both open loop and closed loop inputs are supported (alarm system not required - door contacts may be connected direct)
May be used with any of the following EECI® products: AR-2S, AR-2MF, AR-8X, AR-8MF, AR-8MF232, AR-8MF485, AR-8MFENET, AR-8MFWIFI, AR-12MF or STA-16
Send up to 16 different alert messages
When used to monitor temperature or analog levels (such as PSI, weight, humidity, etc.) any of the following EECI products may be used: AR-8X, ADC-4, ADC-8, ADC-16, the ADC-4U, ADC-8U, ADC-12U (USB series) the ADC-RS232 series, ADC-RS485 series, ADC-ENET series, ADC-T series and ADC-WIFI series Analog to Digital Converters
For use with Windows XP, Windows Vista, Windows 7, Windows 8.1, Windows 10 and Windows 11. Internet connection required
---
Electronic Energy Control, Inc.
14960 Maple Ridge Rd
Milford Center OH 43045-9016
TOLL FREE (24 hour order line)
(800) 842-7714
Technical Support (937) 349-6000
Internet Email
cst@eeci.com
---
Copyright © 1996 - 2023 Electronic Energy Control, Inc.
All Rights Reserved
Document End
---