RS-485 Digital to Analog (4 channel)
DAC4-10RS485Digital to Analog Converter (10 bit)
DAC4-12RS485Digital to Analog Converter (12 bit)
DAC4-16RS485 Digital to Analog Converter (16 bit)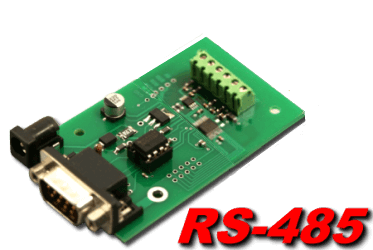 USB
WiFi
Ethernet
RS-232
RS-485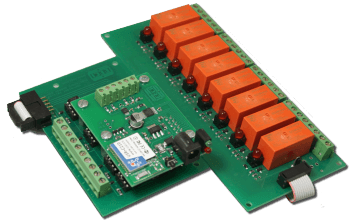 DAC4-12WIFI shown with the
EX-8M and RN-8 Relay Card






Connects to RS-485 (distance up to 4,000 feet)
4 channels of 10 bit Digital to Analog (1,024 increments in output level) with DAC4-10RS485
4 channels of 12 bit Digital to Analog (4,096 increments in output level) with DAC4-12RS485
4 channels of 16 bit Digital to Analog (65,536 increments in output level) with DAC4-16RS485
Selectable reference voltage - allows for 0 to 3.3v, 0 to 5v or user supplied voltage output ranges
Available with high precision voltage reference pre-installed. Allows for (0 to 1.2v), (0 to 2.048v - .5mV per increment), (0 to 2.5v), (0 to 3v) or (0 to 4.096v - 1mV per increment) output ranges
Contact EECI support for more info
Add the CO-420T 4-20mA Transmitter for RS-485 controlled 4-20mA current loop transmitter
Full technical support provided by on staff advisors
Expandable to monitor up to 8 digital inputs or control up to 8 relays using the EX-8M expansion card or...
Expandable to control up to 128 relays, monitor 128 inputs (or combinations of relays and inputs) using EXM-16 or EXM-32 Relay I/O Expansion Modules
Expandable to also monitor Analog to Digital channels or control additional Digital to Analog levels - contact EECI support for more info
Compatible with Windows XP, Vista, Windows 7, Windows 8.1, Windows 10 and Windows 11
Android Compatible - Use with your Android tablet or phone - Monitor over network or WiFi
No complicated communication protocol - just one line of code is required to control all analog levels (or control all relays) to greatly simplify software development. The RS-485 connection and all initialization is completely automated.
Use your own program to control the 4 analog output levels for any application or use the included software
Source code examples included on CD in Microsoft Visual Basic.Net, Visual C#, C++, Python and others
LabVIEW compatible, includes LabVIEW VI, graphic software example and DLL library
Includes CD (or optional USB Flash Drive) with Data Logging Software, driver and user interface. Requires power adapter (PS-5VDC-1000).
---
Electronic Energy Control, Inc.
14960 Maple Ridge Rd
Milford Center OH 43045-9016
TOLL FREE (24 hour order line)
(800) 842-7714
Technical Support (937) 349-6000
Internet Email
cst@eeci.com
---
Copyright ©1996 - 2023 Electronic Energy Control, Inc.
All Rights Reserved
Document End
---