USB Analog to Digital (4 and 8 channel)
ADC-4U11 Analog to Digital Converter - 11/12 Bit
ADC-4U15 Analog to Digital Converter - 15/16 bit
ADC-8U11 Analog to Digital Converter - 11/12 Bit
ADC-8U15 Analog to Digital Converter - 15/16 bit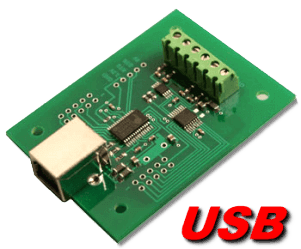 USB
WiFi
Ethernet
RS-232
RS-485
Click the add button to add items, then click BUY
ADC-4U11 Analog to Digital...
$ 55.95
Quantity
ADC-4U15 Analog to Digital...
$ 65.95
Quantity
ADC-8U11 Analog to Digital...
$ 79.95
Quantity
ADC-8U15 Analog to Digital...
$ 94.95
Quantity

High Gain Version (low level input)
USB Cables
Add Relay Control to your USB
product for $29
EN-D Enclosure for the ADC-4U
Additional Accessories
Digital to Analog Products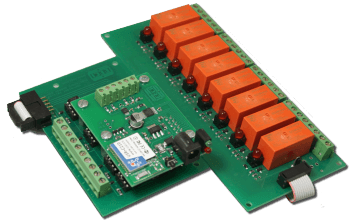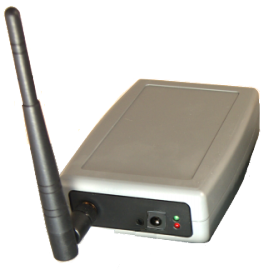 ADC4-15WIFI shown with the
EX-8M and RN-8 Relay Card
ADC4-15WIFI shown inside the
EN-D Enclosure with Antenna
Connects to USB - Powered from USB port
4 or 8 channels of 11 bit Analog to Digital (2,048 increments) for single-ended inputs
or 2/4 channels of 12 bit differential inputs (4,096 increments) with ADC-4U11/ADC-8U11
4 or 8 channels of 15 bit Analog to Digital (32,768 increments) for single-ended inputs
or 2/4 channels of 16 bit differential inputs (65,536 increments) with ADC-4U15/ADC-8U15
Built-in Instrument Amplifier with selectable high precision reference voltage - allows for
(0 to 256mv), (0 to 512mv), (0 to 1.024v), (0 to 2.048v), (0 to 4.096v) or (0 to 6.144v*) voltage input ranges which are scaled to provide uniform voltage per increment *caps at 5v
Commercial Grade reliability - engineered for continuous 24 hour industrial operation utilizing Texas Instrument's world renown advanced analog technology
8 Channel version allows two separate voltage reference selections (of the 6 voltage ranges) and permits simultaneous use of single ended inputs with differential inputs
High Gain version available with (10) selectable voltage ranges of 0 to 5V down to 0 to 16mv allowing direct connect of sensors and devices with low level outputs. See this link for more info: ADC-4U15HG
Both 11/12 bit and 15/16 bit versions may be special ordered in 12 or 16 channel converters - contact EECI support for more info
Full technical support provided by on staff advisors
Expandable to monitor up to 16 digital inputs or control up to 16 relays using EX-8M Expansion Modules or...
Expandable to control up to 144 relays, monitor 144 inputs (or combinations of relays and inputs) using EXM-16 or EXM-32 Relay I/O Expansion Modules
Expandable to also control Digital to Analog levels or monitor additional Analog to Digital channels - contact EECI support for more info
Compatible with Windows XP, Vista, Windows Server, Windows 7, Windows 8.1, Windows 10 and Windows 11
No complicated communication protocol - just one line of code is required to read all inputs (or control all relays) to greatly simplify software development. The USB connection and all initialization is completely automated.
Use your own program to read, display and process the 4 analog inputs (and control relays) for any application or use the included software
Source code examples included in Microsoft Visual Basic.Net, Visual C#, C++, Python, Microsoft ASP.Net and others
LabVIEW compatible, includes LabVIEW VI, graphic software example and DLL library
Includes Data Logging Software, Driver and Android Apps* on CD. Requires USB type B cable (CC-USBB1 or CC-USBB6)
*Smartphone applications can vary, please contact EECI support to check compatibility for your device
Have Technical Questions?
Click Here
Click the Android for free Android USB and Network Apps!

---
Electronic Energy Control, Inc.
14960 Maple Ridge Rd
Milford Center OH 43045-9016
TOLL FREE (24 hour order line)
(800) 842-7714
Technical Support (937) 349-6000
Internet Email
cst@eeci.com
---
Copyright ©1996 - 2022 Electronic Energy Control, Inc.
All Rights Reserved
Document End
---