Relay Interface
Analog to Digital
Status Input
Support
Contact Us
EECI Home Page
View Cart
EX-8M Expansion Card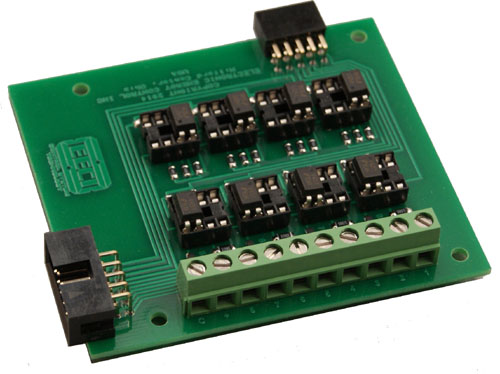 EX-8M Expansion Card................
$ 29.95
Quantity
ACCESSORIES
Click the add button to add accessories,
then click BUY
/M Expansion Port Option*...........
$ 3.95
Quantity
MT-1 Stand-off Kit.....................
$ 2.95
Quantity
RN-8 Relay Card........................
$ 89.95
Quantity
*this option may be added to the AR-2MF, CO-485USB and all
ADC-U series, ADC-RS232 series, ADC-RS485 series, ADC-ENET series,
ADC-T series and ADC-WIFI series Analog to Digital Converters.
View USB Cables
View Enclosures
View Relay Cards
View More Accessories
EX-8M connected to AR-2MF
Adds Relay Control and/or Inputs to the ADC-4U, ADC-8U and ADC-12U series Analog to Digital Converters
Adds Relay Control and/or Inputs to the AR-2MF Relay Interface or CO-485USB
May be set to control 8 relays or monitor 8 inputs or combinations
Powered from USB port
Multi-Function capability allows for connection of a large variety of I/O devices such as Keypads KY-12M, Digital to Analog DA-1 and others
Large variety of relay cards may be connected - RD-8, RD-8M, RG-8, RH-8, RI-8, RJ-8, RN-8, RN-8M, RYD-8, specialty cards and others
Terminal Block provided for inputs
Optically isolated relay outputs and inputs that protect your USB port and computer that allow relays, keypads and other devices to be located up to several miles from the EX-8M and USB port.
Use the SW-A Load Programmer software for 7 day time control of relays
Compatible with Windows XP, Vista, Windows Server 2008, 2012, Windows 7 and Windows 8, 8.1
Source code examples included in Microsoft Visual Basic.Net, VB 2008, VB 2010, Microsoft ASP.NET, C# and others
Full technical support provided by on staff advisors
Connect your AR-2MF Relay Interface to your Android tablet or phone's USB port! Click the Android for more info about the free Android App...

EX-8M Description and Spec
EX-8M Technical Reference
View All Relay Products
---
ELECTRONIC ENERGY CONTROL INC
14960 Maple Ridge Rd
Milford Center OH 43045-9016

TOLL FREE (24 hour order line)
(800) 842-7714
Technical Support (937) 349-6000
Internet Email cst@eeci.com
---
Copyright ©1996 - 2017 Electronic Energy Control, Inc.
All Rights Reserved
Document End
---